On September 24, 2015 Tarik Nesh-Nash represented GovRight and Legislation Lab in the third online global conference on #CrowdLaw. The event was sponsored by GovLab of New York University. This thought-provoking conference brought together academic and legal practitioners from 16 countries.
The goals of the conference were to deepen the participants' understanding of what technology works and does not work for crowdsourcing legislative and constitutional issues, assessing impact and how to implement more effectual and appropriate participatory law-making practices.
The three themes the attendees addressed were: 1) outreach strategies 2) designing to overcome barriers and 3) measuring impact. The conference featured lightning talks as well as a comprehensive discussion on the challenges and future of crowdsourcing legislation and constitutions.
There were many excellent insights and recommendations from all the participants. Several presenters specifically showcased using Legislation Lab. In particular, Sean Deely, of the Libyan Legislation Crowdsourcing project designed their platform in consultation with GovRight.
 New York city council member Ben Kallos is using Legislation Lab (Anti Tenant Black List) to prevent landlords from using housing court records to discriminate against tenants. And, Daniella Hirsch introduced La Constitución de Todos which is helping Chileans become involved in the drafting of the country's new constitution.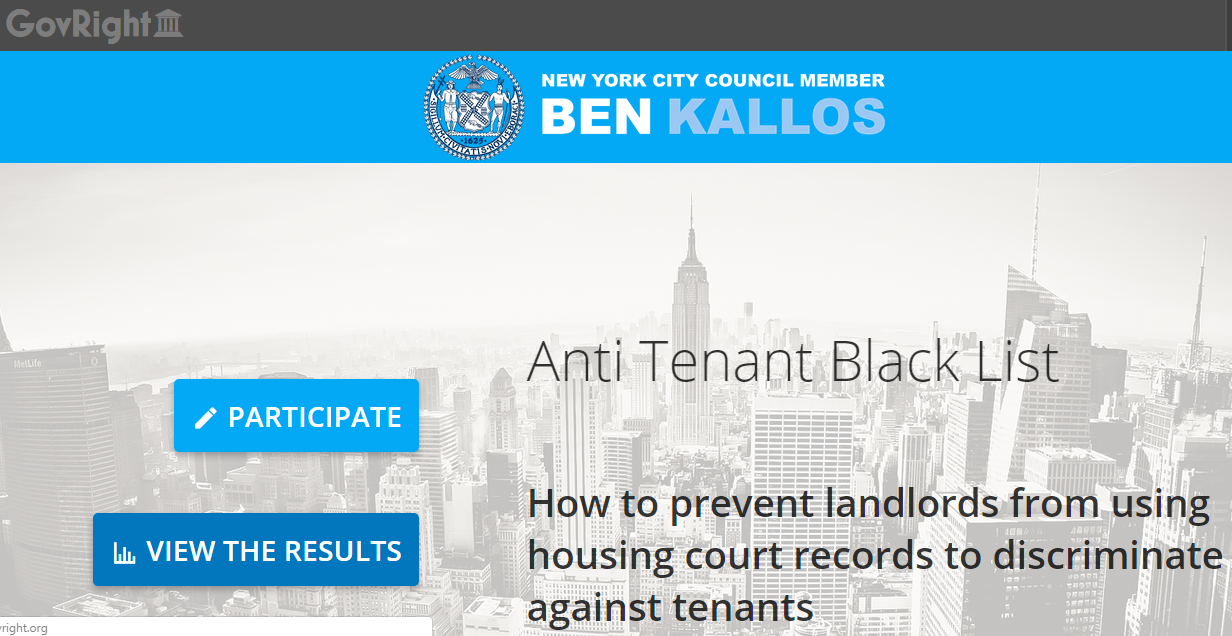 I pleased with the positive feedback that Legislation Lab received and all the new ideas I learned from the other participants.
Tarik Nesh-Nash
Tarik discussed GovRight's Legislation Lab in more detail. First introduced to crowdsource the drafting of the Moroccan Constitution in 2011, Legislation Lab is now supported in nine languages. In addition to the above work, Legislation Lab is also actively being used in Kurdistan, Iraq and has received requests from a number of other countries. Legislation Lab is helping to streamline the legislative process in many different contexts throughout the world.
The full video of the conference can be seen here